Esther Dunn, MD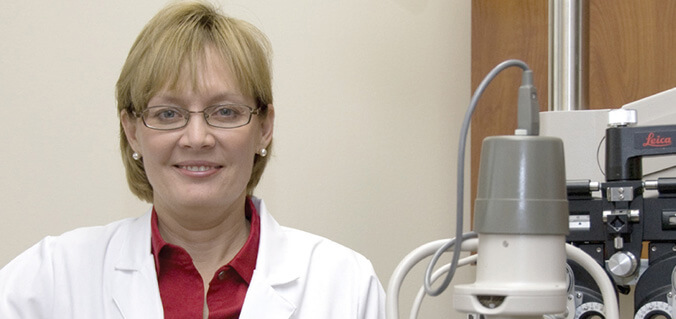 Dr. Esther Dunn has been practicing ophthalmology for over 30 years. She specializes in comprehensive medical ophthalmology including glaucoma, cataract evaluation, diabetes, dry eye, and many other medical eye diseases.
A graduate of the UTMB Galveston Ophthalmology Residency Program, Dr. Dunn received her undergraduate degree at Rice University. She became interested in ophthalmology and found that it was a perfect choice for women who want flexible hours to balance work and family time. And with five children ages 21-31, she now has lots more time to devote to her patients.
Before joining Coastal Eye Associates, Dr. Dunn worked with Dr. Gregory Clariday at St. John Hospital from 1991-1997. She also worked on faculty at the University of Texas Medical Branch (UTMB) at Galveston and at Heights Hospital.
She began working with the team team in August 2007, when their new Coastal Eye Associates satellite office opened on Fuqua. In 2013, she moved to join the present team in the Coastal Eye Associates Alvin office with Dr. McMullen and Doctors Moffitt, Demouchet and Collins where she continues to practice today.
Dr. Dunn says her favorite aspect of her career is the opportunity to talk with patients about the health of their eyes and how their general health affects eye health. In her off time, Dr. Dunn enjoys traveling to all types of exotic destinations – Istanbul, Indonesia, and Europe just to name a few. She recently traveled to Italy with her extended family.